We develop, supply and market a range of products and services to the veterinary profession through our own operations in seven European markets and via network partners in other territories.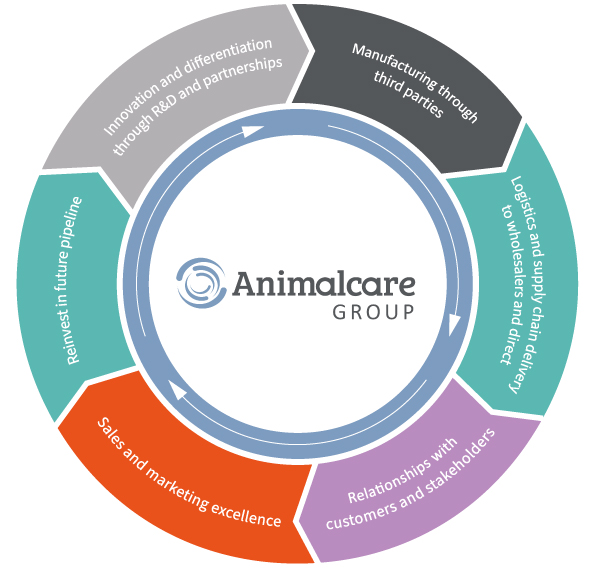 1
---
Key resources
Our most important resources are the skills, expertise and dedication of our employees in the fields of Sales & Marketing, Research & Development, Supply Chain, Regulatory and Business Development. We combine these skills with an intimate knowledge of the international and national markets in which we operate and the regulations that govern them.
We have strong knowledge of the Companion Animal, Equine and Farm Animal markets in which we operate and with the individual vets and veterinary groups that are our core customers.
We seek to improve animal health and well-being by offering a high quality and trusted portfolio of products, with particular strengths in pain management, dermatology, dental, disease prevention, surgery and microchipping.
We use our operating cash to invest in new products, extend our product offering and support commercialisation, and to reward the support of shareholders by paying a dividend.
2
---
Key activities
We develop and commercialise trusted pharmaceutical and OTC products that improve animal health and well-being. These products are developed in-house, acquired from other companies or in-licensed from our partners.
We source all products from third parties. We manage a complex international supply chain, including specialist veterinary wholesalers and distributors.
We are increasingly a preferred partner for non-EU companies seeking to commercialise products across Europe. We also seek to commercialise our own products in international markets through best-in-class collaborations.
We sell products to veterinary practices and veterinary groups through our own highly skilled sales forces in seven European markets: Belgium, Germany, Italy, the Netherlands, Portugal, Spain and the UK.
3
---
Competitive advantages
We have the skills agility and local knowledge to respond to changing markets, complemented by close relationships with individual veterinary practice and larger veterinary groups.
Our sales force has experience and knowledge of their markets and the products and the needs of their customers and many have a professional veterinary background or training.
We are increasingly focused on therapies with high unmet need and scope for innovation and growth. We are positioning ourselves as a preferred partner for companies and those seeking to commercialise their innovative products into Europe.
4
---
Creating value for stakeholders
We create value for our employees by offering career development for highly skilled individuals as part of an expanding organisation
We create value for customers by being highly responsive to the medical and business needs of vets and by providing trusted and innovative therapies and services for the animals in their care.
We will create long-term value for shareholders by being a cash generative, dividend paying, growth company with a solid portfolio of existing products and an innovative pipeline.